Bangkok is a quick plane or bus ride away, and Trat's bus station connects you to several other towns in Eastern Thailand.
Here are our suggestions for some day and weekend trips you can take from Trat.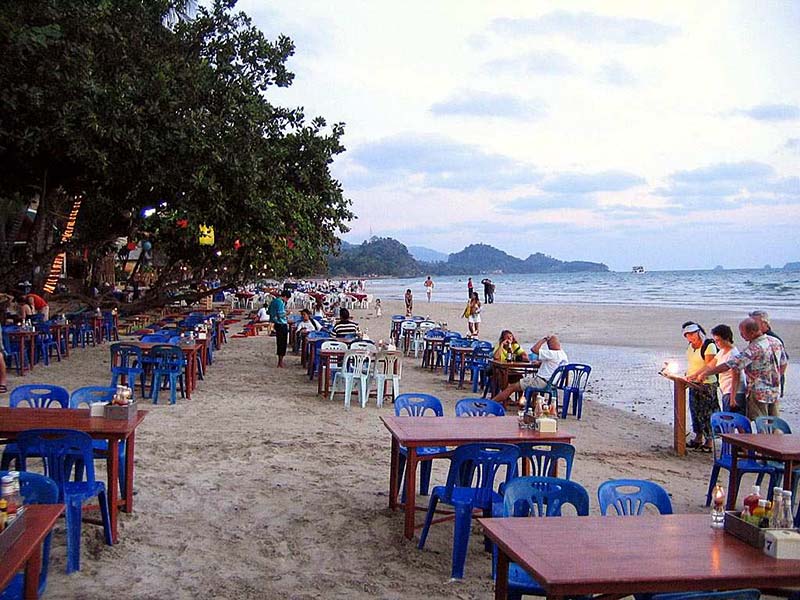 1. Koh Chang
Let's start with one of the quickest day trips you can take. Koh Chang is a popular resort island right off the coast of Trat. To get there, you'll need to take a taxi from the bus station and then a 30-minute ferry ride.
While it's not as popular as Phuket or other parts of southern Thailand, Koh Chang still has plenty to do. To start, there lots of beautiful beaches where you can soak up the sun or go snorkeling, fishing and diving.
Khlong Phrao, Lonely Beach and White Sand Beach on the west side of the island are the most popular ones, but you can find lots of other secluded, unspoiled beaches if you're looking to avoid the tourists.
And if you want a change of scenery, you can go jungle trekking to one of several waterfalls on the island. The easiest and most accessible ones are Klong Plu and Than Mayom. They're both located within Mu Koh Chang National Park and cost about 200 baht ($5-6) for admission.
Hardcore adventure lovers can also hike the rugged trail which connects the two waterfalls and runs across the island. But you'll need a guide and 8-10 hours!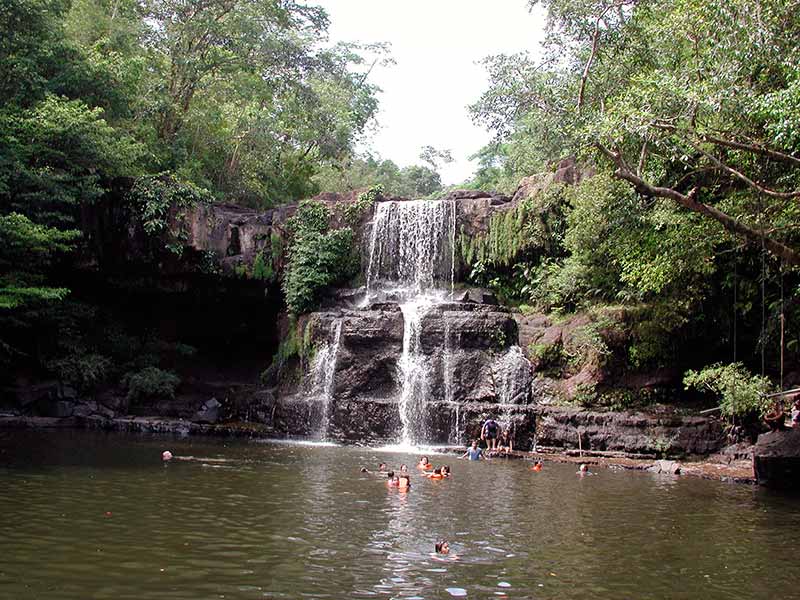 2. Koh Kood
For a more off-the-beaten path experience, you can visit neighboring Koh Kood (or Koh Kut, as it's sometimes called.) About 60-90 minutes by speedboat from Koh Chang, this island is even more wild, peaceful and isolated. There are very few shops, and cell phone and internet signal are spotty — great if you want to disconnect for the weekend!
The island has lots of beautiful beaches with clear water and pristine white sand. And you can go snorkeling and scuba diving with one of the operators on the island.
When you're tired of beaches, head into the expansive rainforest, where you can explore four waterfalls of varying sizes. There's also a hiking trail where you can see a sacred rock formation that resembles a battleship and visit the famous Makka trees, which are said to be at least a couple hundred years old.
The best part? It's all free.
You can also visit Ban Ao Yai and Ban Ao Salad, traditional fishing villages where you can see some ancient Thai culture and sample fresh seafood.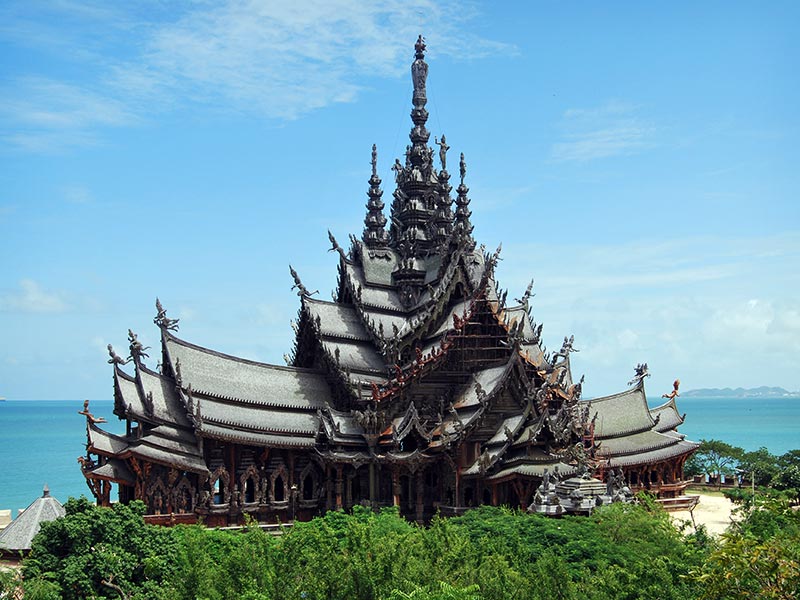 3. Pattaya
Pattaya has a reputation for its wild nightlife and endless partying, and there's plenty to go around if that's what you're looking for. The infamous Walking Street is jam-packed with neon-lit restaurant, beer bars, and clubs. The street, which runs about 3 miles long, is closed to vehicles after 6pm when tourists and locals alike converge on the area.
But even if you're not the partying type, there's still a lot more to see in the city.
If you're into design, don't miss The Sanctuary of Truth, a beautifully constructed building covered in intricately carved wooden sculptures. The building is not exactly a temple. The website said it was created to use "art and culture as a reflection of the Ancient Vision of Earth, Ancient Knowledge and Eastern Philosophy." Construction won't be complete until 2050, but you can still check out the existing structures and go for stunning views of the sea.
Another great place to check out is the Nong Nooch Tropical Botanical Garden, known for its award-winning landscape design and impressive collection of flowers and plants. Or, visit the floating markets for a variety of food, souvenirs, and cultural performances. The journey from Trat to Pattaya takes about 5 hours by bus and costs around 300 baht ($9 US) each way.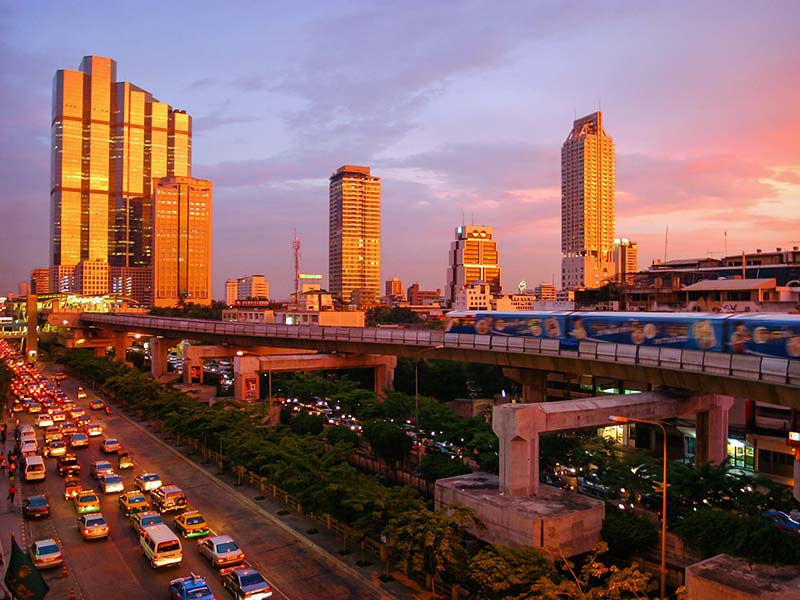 4. Bankgok
Few people think of Thailand without Bangkok coming to mind. Famous for its abundance of delicious street food and the hustle and bustle of Khao San road, it's the complete opposite of quiet Trat.
But if you want to experience Thailand's capital for a weekend, it's only about a 5-hour bus ride away.
Bankgok's most famous attractions include the Grand Palace (where Thai royalty used to live) and beautiful temples like Wat Pho and Wat Arun. Both wats (temples) are located along the Chao Phraya River, which you can sail on by taking either a commuter ferry or a longboat.
At night, backpackers and young people flock to the lively Khao San Road for drink specials and partying. Much like Pattaya's Walking Street, you can expect to find large crowds and an explosion of colors and sounds.
Once you've had your fill of the city, you can venture a couple hours outside of Bangkok to do some shopping and snap photos at one of the floating markets.
5. Siem Reap, Cambodia
Trat is located right next to the Cambodian border, so it's possible to visit over a weekend. You'll need a single-entry tourist visa, which you can apply for online for US $36. Buses go from Trat to the border, at which you'll need to change transportation to get to Siem Reap.
The biggest attraction is Angkor Wat, Cambodia's most famous temple. It's part of the Angkor Archaeological Park, which includes more than 45 temples and ancient ruins from the Khmer Empire, and is a UNESCO World Heritage site. The grounds are so expansive that you'll need to hire a driver to take you around.
Tip: For a magical experience, get there super early (around 5am) to watch the sun rise over Angkor Wat. You won't be the only one there though, so the earlier the better.
Although you could spend several days exploring the sprawling site, a one-day pass for $20 makes the most sense if you're just there for the weekend. Otherwise, you can choose from a three or seven-day pass.
Where will you go?
These are just a few of the trips you can take when you volunteer in Thailand. Our program staff can recommend even more activities that you can do with your fellow volunteers. But no matter where you choose to visit, we're sure you'll love this warm, welcoming country.
Want to volunteer in Thailand? Download our free brochure to find out more.