The floating markets in and around Bangkok are famous the world over; these boat-based stalls hark back to the times when Thailand's waters were integral to commerce, serving as a means of trade locally and regionally. The areas by rivers were the first to be populated, so the waterways of Thailand have always been a focal element of day-to-day life.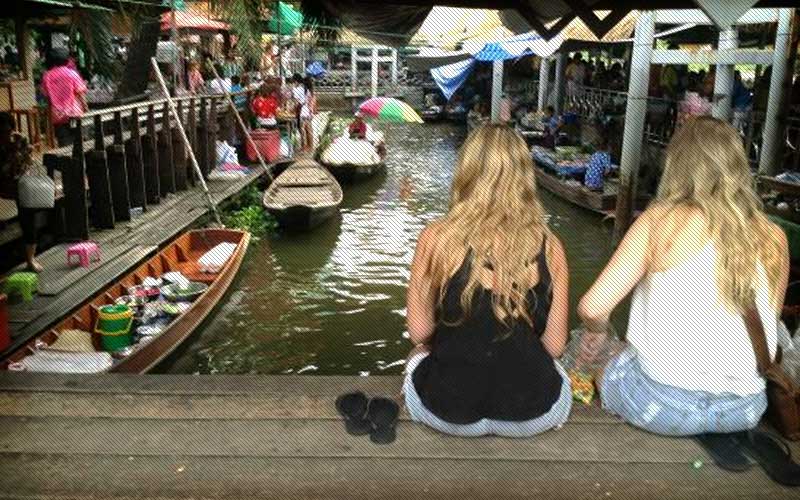 Floating markets are believed to have become popular during the Ayutthaya Period of 1350 to 1767. The ensuing Rattanakosin Period, however, saw the construction of roads and transport networks. Canals were filled to make way for these modern means of transit and many markets were moved on to the land.
In and around Bangkok, the floating markets have prevailed until this day, and continue to be popular with locals and visitors alike.
Stopping by for an afternoon is a great way to experience the traditional riverside culture that has been a key part of Thai life for centuries. Take a look at our pick of the best five floating markets to visit during a volunteer vacation to Thailand.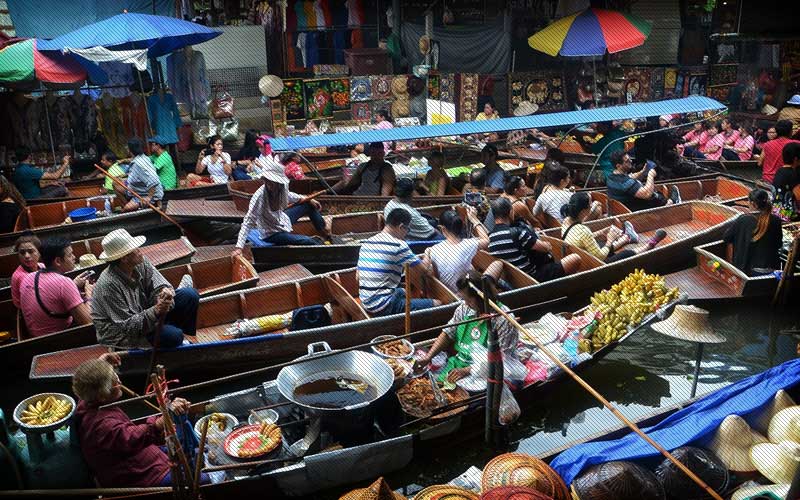 Damnoen Saduak
Arguably the most popular of Thailand's floating markets but not technically located in Bangkok, Damnoen Saduak can be found to the west of the city in Ratchaburi. Perhaps the best way to experience the hustle and bustle of this famous market at a relaxed pace is with a guided boat tour.
There are hundreds of vendors here, selling their wares; the market is particularly well known for its fresh fruit, including mangoes, Malacca grapes, Chinese grapefruit and coconut. Around the vendors, you'll also see many smaller rowing boats, full of buyers.
Pick up some fruit to take back to your accommodation or sample some Thai cuisine, made right in front of you on the boats - mango sticky rice and coconut sugar candy are especially popular.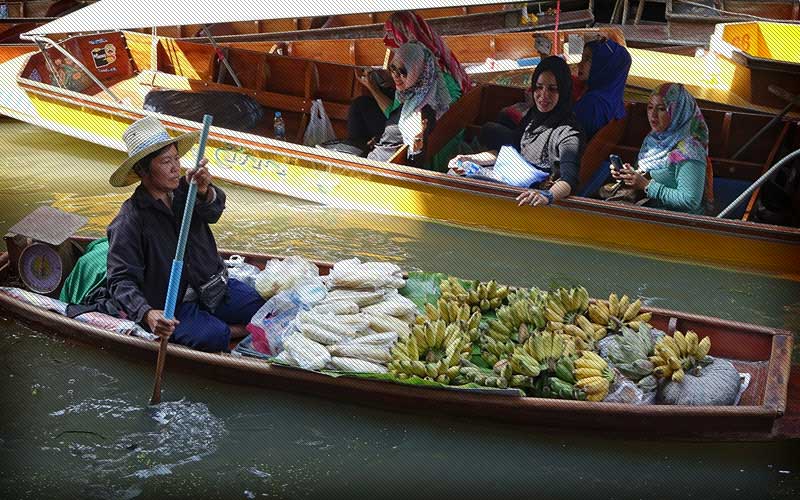 Taling Chan
Located several kilometers outside Bangkok, Taling Chan is an authentic floating market full of charm. There's no need to book a tour here ahead of time - this local market isn't as big as some of the other busier bazaars.
Famous for its roasted seafood, Taling Chan is especially popular on Saturdays, when tables are set up especially for visitors to enjoy tasty crab legs, prawns and the renowned roasted snake head fish.
Take a tour of the nearby canals, do a spot of shopping and perhaps treat yourself to a relaxing and inexpensive foot massage under the shade of the trees over the waterways.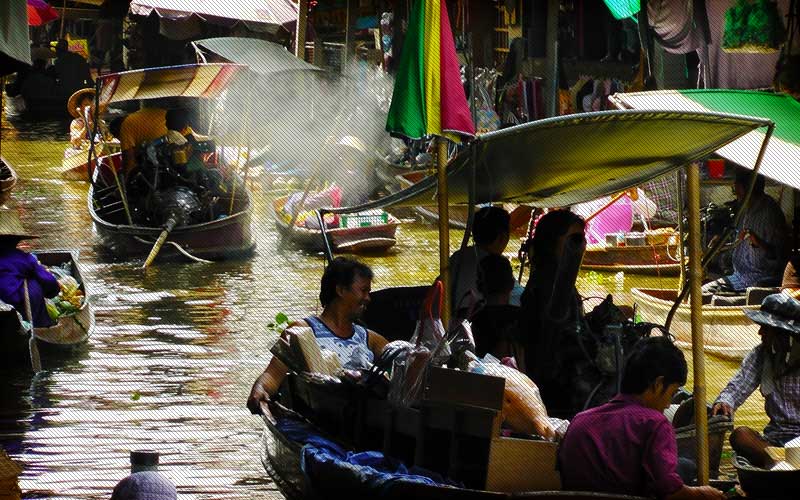 Khlong Lat Mayom
In the same area you'll find a second floating market, Khlong Lat Mayom. One of the newer bazaars on the water, Khlong Lat Mayom isn't a major tourist spot yet, making it less crowded and more of a cultural experience than many of the busier, better-known markets.
Mainly attended by locals, Khlong Lay Mayom mainly sells local organic produce, with a comparatively larger selection than many of its rivals.
Stalls can be found on the water and on land, and the picturesque setting is ideal for exploring by boat or on foot. Boat tours take visitors all around the rural setting while on foot you can enjoy a stroll around the orchard, or along the canal bank.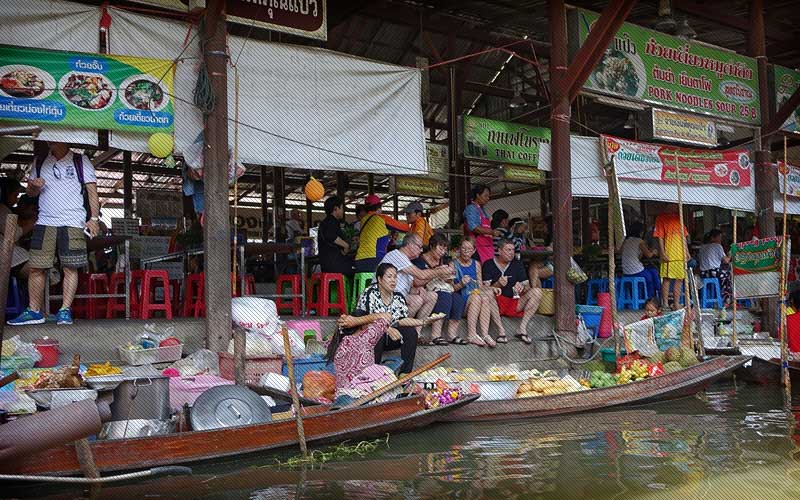 Amphawa
Among the most popular floating Thai markets is Amphawa, a large bazaar filling an entire neighborhood located to the west of Bangkok in Samut Songkhram Province.
The floating market is renowned as the most popular among Thai tourists rather than foreign travelers, so there are fewer tacky bits and bobs to browse here. As well as food and produce, you'll also find stalls selling clothing and arts and crafts.
Amphawa is an evening market but some stalls are open from noon. If you visit in the evening, you can venture out on to the water in a boat to watch the fireflies lighting up the night sky.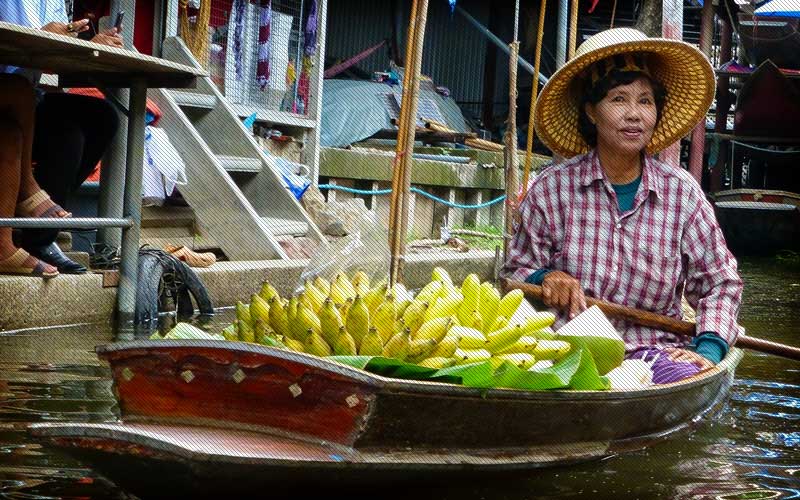 Bang Phli
For something a bit different, head to Bang Phli floating market in Samut Prakan Province. One of the country's oldest markets, Bang Phli varies from most of the other bazaars in that many of the stalls here are actually housed in wooden huts on either side of the Samrong Canal.
The huts are connected by wooden walkways, so you can visit lots of different stalls. There is some fine fresh food to be found at this market, which is popular with locals, so little English is spoken.
Within the vicinity you'll also find the local temple, which is home to a renowned image of Luang Pho To - a Thai Buddhist monk who famously died meditating.
As you'll discover when you volunteer in Thailand, the country's rich culture can be experienced in many ways, but nothing compares with a visit to the floating markets in and around Bangkok. Download our country brochure for more ideas about how to make the most of your time in Thailand.