Thailand is no exception! The bright colors of "The Land of Smiles" will welcome you to some of the most beautiful cultural celebrations of Asia. When you volunteer in Thailand, your nights and weekends will be free to explore all that the country has to offer. Here's why you should dedicate some of this free travel time to seeing the incredible festivals in Thai culture:
Songkran (New Year's)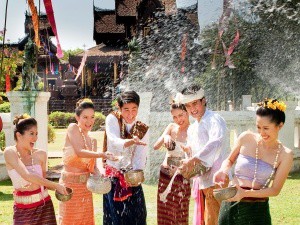 This celebration of Thailand's traditional new year is held in April. Because it is celebrated around the country, most official buildings will close down in celebration. The Thai new year is comprised of many celebrations over a 3-day period, including a monk blessing, buddha bathing, parades, and a beauty contest.
The main events of Songkran are water fights. That's right––water fights! Instead of using fireworks like Western countries, Thai people commemorate their new year by throwing and sprinkling water. This was originally intended to "wash away sins and bad luck" for family members and elders, but the celebration has since evolved to include water guns, hoses, and even super soakers.
Loi Krathong (Yee Peng)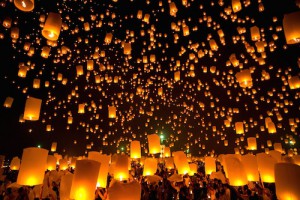 This Thai festival of lights has been a long tradition of the spiritual country. Today, it acts as a time for Buddhists to reflect on themselves and let go of negativity. The best place to witness this festival is undoubtedly the northern town of Chiang Mai, where you can spend 3 days celebrating this tradition with the community. The two celebrations, Loi Krathong and Yee Peng, are technically separate celebrations with similar themes of light and renewal. But they tend to coincide in the early winter months, so visiting volunteer should simply do as the locals do.
The most breathtaking part of this popular festival is the moment when thousands of participants meet to release lit lanterns into the night sky. International visitors must pay an entrance fee (about $100 USD), but the site is one of the most spectacular festivals in the world. You can even release your own lantern on this night!
Loi Krathong––the other half of this festival of lights––is celebrated by releasing lit banana leaf vessels down rivers, streams, and other bodies of water. You can make or buy your own, adorning it with offerings like coins and flowers. This festival is seen as one of spiritual cleansing, so heavy drinking and parties are not the norm. But you'll certainly walk away feeling powerfully connected to this beautiful tradition.
Valentine's Day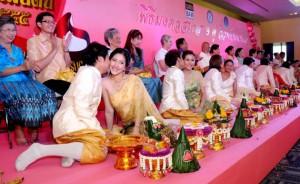 You may have celebrated love in other countries, but as a volunteer in Thailand, you'll get to see the Asian version of the day! This country is not known for its public displays of affection like some progressive European cities. Thai people are generally very friendly, but respectful of personal space. But this holiday is a romantic time to celebrate love and relationships in Thailand. On your February 14th volunteer abroad travels, you'll get the chance to join in festive parties and public events that focus around love for those around you. If you're lucky enough to travel with a partner, you can plan a romantic dinner at a nice restaurant––just as many Western countries do.
One of the more unique parts of Thai Valentine's Day is the spike in marriage registrations. Superstitious couples frequently choose this day to get hitched––as it is seen as a safe day to secure long-lasting love. How's that for a celebration?
Phi Ta Khon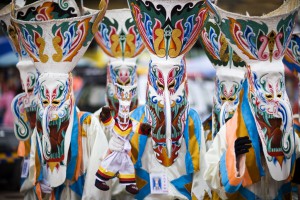 In the small northern province of Loei, one of the most interesting and fascinating Thai festivals takes place in early summer. Phi Ta Khon, or the "ghost festival," consists of tradition parades that originally sought to welcome Buddha back from a legendary presumption of death. Local celebrities and townspeople wear great, colorful costumes and wooden masks in this joyous occasion.
During your visit to this otherwise quiet town, catch the main procession: which is a lively retelling of the tale, where young men dress as spirits. The exact date was previously announced by village elders only a few weeks ahead of time––but to accommodate visitors and solidify the celebration, it is now held the first weekend after the sixth full moon each year.
Takeaway
As a volunteer in Thailand, you'll get the chance to travel the country and see some of the most amazing beaches and villages in Asia. But these 4 festivals will immerse you in the culture of the country––a welcoming, friendly place with deep roots in spiritual traditions. From the captivating "ghost festival" of Phi Ta Khon to the breathtaking lights of Loi Krathong/Yee Peng, these incredible festivals are worth the trip.